Zone
Level
Drops
Steal
Spawns
Notes
Jugner Forest
55
1
A, H
*See below
~35,000 HP
??? MP
Everbloom Hollow
1
A, H
*See below

A = Aggressive; NA = Non-Aggresive; L = Links; S = Detects by Sight; H = Detects by Sound;
HP = Detects Low HP; M = Detects Magic; Sc = Follows by Scent; T(S) = True-sight; T(H) = True-hearing
JA = Detects job abilities; WS = Detects weaponskills; Z(D) = Asleep in Daytime; Z(N) = Asleep at Nighttime; A(R) = Aggressive to Reive participants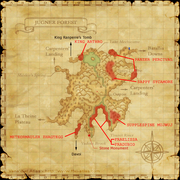 Located around (G-5), typically near the lake. You have to go through King Ranperre's Tomb to get to this area.
His pop method is slightly different than other NMs. Ten Knight Crabs pop 21 hours 5 minutes-24 hours 5 minutes after King Arthro is defeated and after all ten of these Knight Crabs are defeated, King Arthro will spawn 5-10 seconds later. (Example: If Time of death is 6:00pm, the window will begin at 3:05pm the next day and windows will be at the 05 and 35 minute mark.)

Knight Crabs rage progressively. The longer that you hold one the more damage it does. They critical often and have increased evasion and accuracy. A Knight Crab held for 20 minutes will critical a fully self buffed with food 75 PLD/WAR for upwards of 400 damage.
If one Knight Crab is held for more than 5 minutes, the Knight Crabs will begin to respawn.

Instant cast on spells – Waterga IV, Poisonga II, Drown, and Enwater. High level players have high resistance to these spells due to King Arthro's low level.
Uses Hundred Fists and has an Additional Effect: Paralyze on melee attacks.
Resistant to Blood Weapon.
Begins to Rage after 20 minutes. Slowly builds to full rage, increasing all stats over time.
King Arthro can despawn after 10 minutes if not claimed.
King Arthro can drop up to three cloths.
Killable by 6 level 62 players (see testimonials).
Found in Everbloom Hollow as a result of being warped there via the Doomvoid ability, used by a Sandworm.
The Past King Arthro is a stronger version of the Present King Arthro. (It is not raged, just a higher level.)
This is a timed, 60 minute battle.
Bubble Shower will summon a Knight Crab, which will try to cure him by casting Water IV on him.

King Arthro will summon more Knight Crabs throughout the fight and they should be killed.
If Knight Crabs are pulled away from King Arthro, they might go back to him to cure him.
When King Arthro is below 20% HP, Knight Crabs spawn far more frequently.

King Arthro is only damaged by Critical Hits, but at a extremely decreased damage. (Thief crits at 90 were landing for 12.)
Found that this above statement is true to some extent, as my NIN/WAR @90 was critting for 80-90 damage per hit. Meat kabobs used, though I didn't have Kannagi. Most if not all my non-crit's landed for 1 damage.
All Normal Nukes do 0-1 damage.
At 90 Critical Hits can land for slightly higher, but not enough to make him killable without a Skillchain.
At 99 Critical Hits were landing were 250+, making him easily soloable.
Also found this above statement to be false, as I just successfully dual boxed this as 90NIN/WAR and 90WHM/BLM. When knights pop i killed them as quickly as possible so they could only get a single water IV off, and I used my WHM/BLM to stun those. Earlier in the fight stun was used for Waterga IV to conserve mp. (As a sidenote I did have to rest about 1-2k mp back during the fight.)
King Arthro will cast Waterga IV frequently.
King Arthro will gain resistance to Stun after some time.
Water-based spells cure King Arthro.
Killable by 4 level 90 players, using Skillchain-Magic Burst.
Knight Crabs are easily killed at 90 by a Beastmaster pet.